ARE YOU CHASING YOUR PRODUCT OWNER WHO DOESN'T EVEN HAVE TIME TO ATTEND SPRINT PLANNING?
You are not alone!
Help your Product Owner!
Do you see the following when working with Product Owners?
THE MOST COMMON ANTI-PATTERNS SCRUM MASTERS AND AGILE COACHES FACE WHEN WORKING WITH PRODUCT OWNERS
More than 150 people answered our survey, and after more than 200 interviews on the Scrum Master Toolbox I've got some tools and techniques to share with you about how to Coach Your Product Owner
In 2017 I introduced the Coach your Product Owner e-course v1.0. It was a success, and it gave me a lot of feedback that I'm using now to release the version 2. In Version 2.0 we tackle the 9 most common anti-patterns that Scrum Masters observe when working with Product Owners.
Buy your 1-year access to the Coach Your Product Owner e-course v2.0
HELP YOUR TEAM!
SOLVING THE ANTI-PATTERNS WITH THE
COACH YOUR PRODUCT OWNER COURSE v2.0
Chances are that you are facing one or more of these anti-patterns. In this e-course we tackle each of these in a nearly 8h video course complete with handouts, templates and a detailed video walk-through.
List of modules included:
HELP YOUR TEAM!
I'm Vasco Duarte, your mentor and friend on this journey. I've been there...
I want to transform product development organizations into product business organizations.

I do that by focusing the work of the product development teams on the end-to-end life-cycle of their products. From Concept to Cash and Back!

Currently a Managing Partner at Oikosofy, and podcast host for Scrum Master Toolbox Podcast.

Product Manager, Scrum Master, Project Manager, Director, Agile Coach are only some of the roles that I've taken in software development organizations.

Having worked in the software industry since 1997, and Agile practitioner since 2004. I've worked in small, medium and large software organizations as an Agile Coach or leader in agile adoption at those organizations.

I was one of the leaders and catalysts of Agile methods and Agile culture adoption at Avira, Nokia and F-Secure. I host a daily podcast where I interview Scrum Masters about their daily challenges and insights: https://scrum-master-toolbox.org/
HELP YOUR TEAM!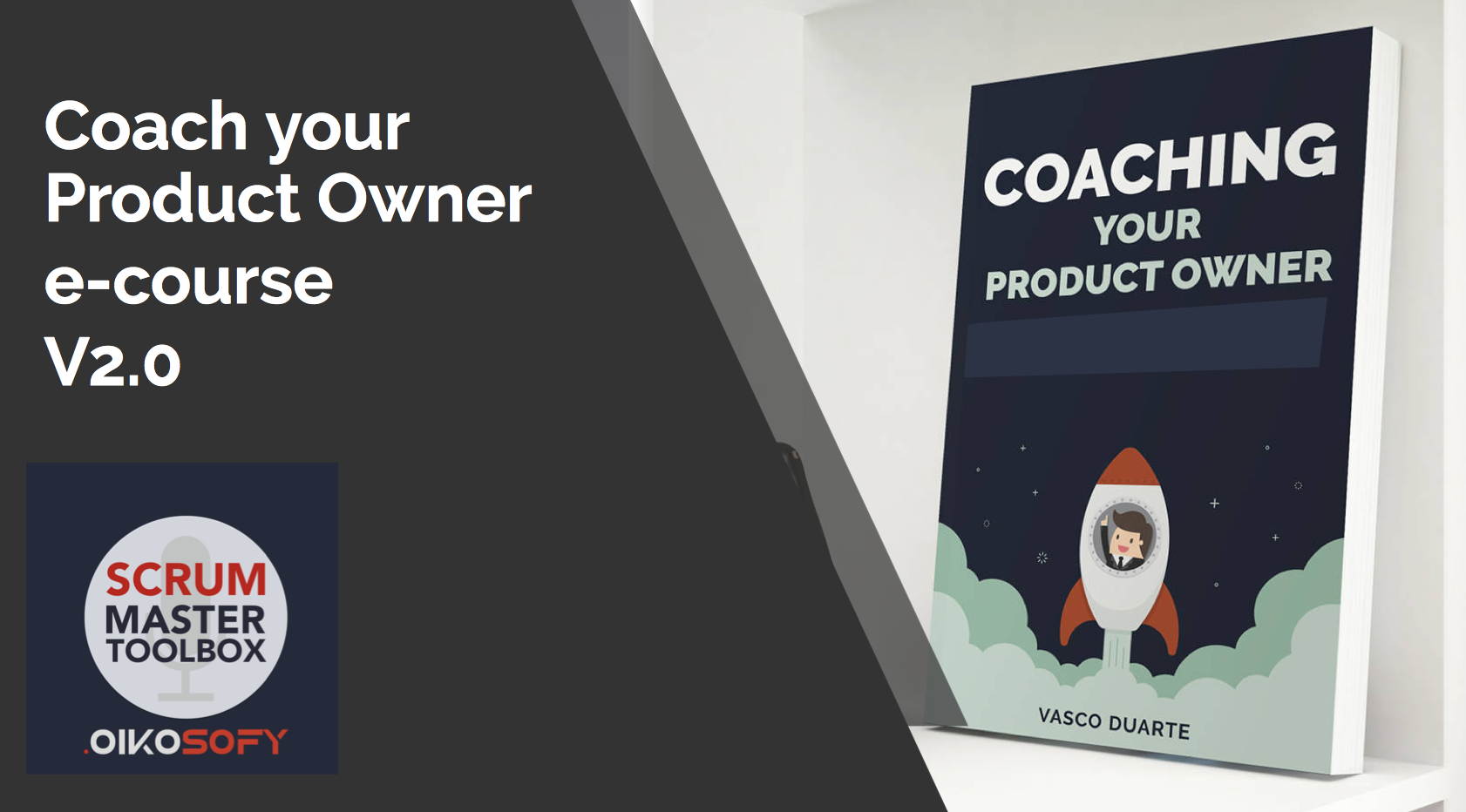 What You Will Learn
Absent or super-busy Product Owners are a common occurrence. And what's more, that's the default situation in successful products! And we all want to work in successful products. Don't we? If you do, then you need to know how to help the team, even if the PO is super-busy!
Many Product Owenrs are onboarded from other positions in the organization. From tech-lead to Business Analyst, the PO's we work with can have many different backgrounds. As Scrum Masters and Agile Coaches we need to help them learn their new position. A PO needs a different set of skills, and it is up to us to help them learn those quickly.
Product Owners with a waterfall or more traditional background need to be brought up-to-speed quickly. And there's no time to send them on long, and far away courses. As Scrum Masters we need to make this practical and turn skeptical PO's intro productive PO's.
As organizations grow, and products become more successful, the PO needs to learn to work with multiple teams. How can we help scale the PO role? This is a critical aspect of our work, since good PO's take time to hire and train. In the meanwhile your team depends on you. Will you take the challenge and help the PO scale their role?
Simple techniques to help the Product Owner manage and reach decisions quickly even when multiple stakeholders are involved

Reaching prioritization decisions with the Product Owner in minutes, not hours or days

The critical documents, and how to facilitate their creation for Product Owners working with Agile teams

Increasing the speed and value of the feedback you, the Product Owner and team collect
Varun Maheswari, Scrum Master
I have taken Coaching Product Owner course from Vasco Duarte and I have no words to explain how brilliant it is.

Highly recommended for any agile practitioner.

Thanks Vasco for putting up such a great course.
Tassilo Bossman, Product Owner
I attended a Product Owner course by Vasco Duarte and found it incredibly valuable.
Michal Brutvan, Product Owner
It was a really good class, inspiring. I already shared my notes with my colleague who is the new PO and he really liked the idea of outlining the decisions and use it to validate his own priorities in his backlog.

(feedback on one of the modules of this course)
Help your team, coach your product owner
Three different packages to fit your needs
NOTE: all the plans include a FULL REFUND GUARANTEE without any time-limits.
If you are not satisfied we will refund your purchase, no questions asked.
Version 2.0 only
Immediate Access
Videos, handouts, and templates

Sprint Checklist/Calendar - Dealing with an Overly Busy or Absent PO

How Scrum Masters can onboard a new or beginner Product Owner

How to work with a Skeptical PO, who's new to Agile and does not have the right skills

How to scale up the Product Owner role to serve multiple teams and multiple products without spending more time

How to recover from the "PO not empowered" anti-pattern, building confidence, clarity in direction, and consensus building skills to help PO's

How to help the Product Owner manage multiple stakeholders

Helping the Product Owner make prioritization decisions - 5 Prioritization techniques you can use in minutes, not days

The Critical documents/artifacts a Product Owner is responsible for, and how they help the success of the Product and team

5 Techniques you can use to get feedback quickly and help the Product Owner benefit from quicker feedback
Version 2.0 with v1.0 included!
The 9 most-common anti-patterns are where we start. The problems we must face. But then we must follow-up and help the PO and the team take their game to the next level.
In version 1.0 of the course we tackle 9 other topics that you must have in your toolbox
All of the 9 modules included in version 2.0 plus the following...

Coaching Product Owners: Anti-patterns of Product Owner Role, and how to help PO's avoid or get out of them

Product Owner vs Product Manager - the break-down and coaching the Product Owner

Metrics that drive product success - ACTIONABLE metrics vs. Vanity Metrics

Doing the Right Things - understanding and communicating customer needs Mini e-book: A Guide to Agile Contracts

How to roadmap so that neither the CEO or the team hate you

A quick and impactful method to prioritize the backlog

Quickly defining acceptance criteria

How to size backlog items without estimation in a way that drives collaboration

Defining the perfect Sprint Goal
ALL OF THE COURSE CONTENT PLUS
6H OF GROUP COACHING SESSIONS WITH
VASCO DUARTE
Knowledge is not power. Knowledge is potential power! We must put that knowledge into action before it can have an impact.
You know what drives action? Peer pressure!
In this package we include 4 hours of group coaching with Vasco Duarte which will ensure you take action.

This is the must-have package if you really want to have an impact!
Version 1.0 and Version 2.0 of the course plus....

6 hours of group coaching with peers and Vasco Duarte

Life-time email support by Vasco. Any problem, any time.

Recordings of the group sessions so that you can watch/listen later on

Access to future Coach Your Product Owner modules as they are released.
About Your Mentor

So who's behind this?

Hey, I'm Vasco Duarte. I've been working in the software industry since 1998, and have learned the hard way what works (most of the time) and what does not work (almost never).

My goal is to help our industry evolve. We can't become better without trying out new and innovative approaches to software development. The majority of our businesses runs on software. We owe it to our society to get better at an activity that affects so much our lives and our countries' economies.

I consult companies that understand software is a key component of their business model. You can find me and get in touch via twitter: @duarte_vasco; or on my company's web-site: http://www.oikosofy.com/.